I didn't think of it as going on a vacation. I've been on vacation since June 8th so life is one big vacation this summer. My daughter wanted us to meet her in Palm Springs, well San Jacinto/Hemet really. So we did, since we planned to go to LasVegas on Sunday anyway we just did the circle tour.
Its been a while since I've been down towards Indio/Palm Springs as we traveled I-10 and got over the hills heading towards Indio….. Is it over cast or is that smog? Overcast. NuhUh, smog. No can't be, must be overcast. IT IS, its smog….ugly brown air from LA! LA air is now 120 miles inland? Pretty sad. I was thinking it was sand & dust. Its the wind. Hello it wasn't windy. SMOG in Indio! Unreal & nasty, global warming I tell you.
Headed into Palm Springs.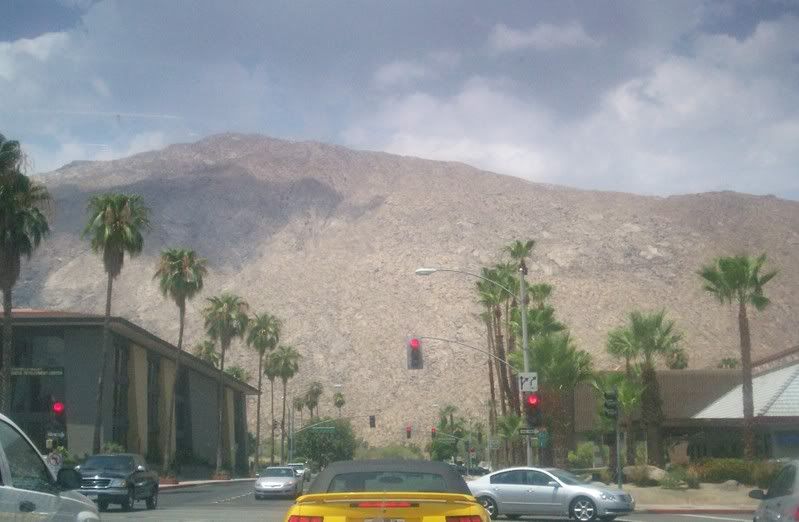 There's something "nice" about being at the bottom of that mountain. Maybe its a "mana" thing. I don't know. I don't know anybody who lives there, I hear there's alot of rich highmuckamucks who live there. They have alot of the old architecture, looks 50′s and art deco-ish or California Spanish styles. We stayed at the Palm Springs Motel 6. I've been to alot of Motel 6′s and this one is nice, very decent. Probably the cheapest place to stay in the whole city. I don't know.
View from the pool.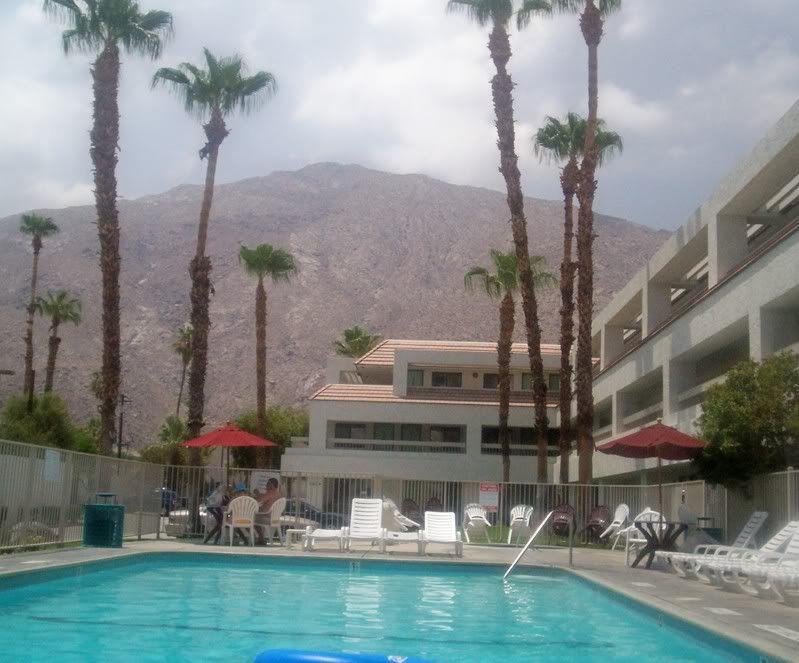 Sunday we headed toward LasVegas via 29 Palms. The road doesn't even have a number. Or I never saw one. Its on the map but it aint on the road. We went thru Yucca Valley and Amboy and Essex, population 100 the sign said. I think 75 peoples may have moved out since that sign went up. Physically I only saw one human. It was way way out in nowhere, short cut. I didn't want to take picture of sand and sage. Just vast nothingness. Kind of like…if you've every driven between Reno/Carson City & Las Vegas. Its that kind of nothingness. Except between Carson City & LV there are at least 5 brothels and 3 gas stations. Between 29 Palms and Needles,CA there are no brothels and maybe 1 gas station.
So we stayed at the Imperial Palace.
Me, I made history. I did not gamble. Not one quartermania, did not buy jack. Zero shopping. Just went to eat. Cause you know I had a sponser. Basically, I sat by the pool and read my book; cause dats da Kanaka in me. LOL
Imperial Palace pool side.