HawaiiStories
[ View: Excerpts | Quick Summary ]
January 18, 2008:
Riding the Iroquios Point to Pearl Harbor Grey Boat

All this week, I'm attending a computer class at Hickam AFB. Seeing as how I live in Iroquois Point, all the way at the end of Ewa Beach, this presents me with the possibility of getting stuck in traffic jams and "enjoying" the comfort of my car for at least an hour each way. Fortunately, courtesy of my military ID card, I have another option... Read on...

- Posted by Todd at 08:47 PM ( Comments)
November 28, 2007:
Moloka'i Nui Ahina Book Signing

Hey GuyZ. Come see me at the following locations in January. I'll be signing my new novel and, if you mention you heard about the appearance on HawaiiStories, I'll give you a free copy of BEFORE THE CITY with your purchase.

Jan. 12: Borders Waipahu @ 2 pm, Borders Kaneohe @ 5 pm
Jan. 13th: Borders Ala Moana @ Noon

- Posted by Kirby at 02:53 PM ( Comments)
November 27, 2007:
Calling all Hawaii bloggers! Marcie wants to hear from you:

"My name is Marcie Stoddard and I am currently a graduate student here at the University of Hawaii at Manoa. I am currently working on my masters in communication and am completing my research methodology class. I am conducting a small research to look at user generated content through blogs and what motivates Hawaii residents to blog. If you could answer the following question to the best of your ability and the best of your knowledge. If you like you can also express any background information about yourself.

Why do you blog?

Thank you for your time. If you have any questions you can contact me at mstoddar@hawaii.edu."

- Posted by Prophet Zarquon at 12:31 PM (2 Comments)
September 27, 2007:
When I first launched my blog in July 2000 — truly an eon ago in Internet time — I did so almost reluctantly, apologetically, stepping into the breach of "the weblog fad" that was sweeping through the journaling community. Today, blogs have proven their worth and staying power. As, I'd like to think, have I. I've moved Hawaii Blog to a new site and to a new incarnation. While I know such moves are a hassle for readers and becoming an all-too-common occurrence in the reinvention-happy blogosphere, I dare say I've earned one "update your links!" announcement over the past seven years. Read on...

- Posted by Prophet Zarquon at 08:02 AM (9 Comments)
August 23, 2007:
Back in elementary school I discovered that I loved the power of writing. A particular reader, I found it fascinating how I was able to transport myself into the plot of a fictional story or take on the emotional burden of a tragic news story or even salivate at the description of a tasty meal. I wanted this power, and I set my mind on harnessing it for my own. Read on...

- Posted by Infinity at 09:15 PM ( Comments)
August 17, 2007:
people really love this guy.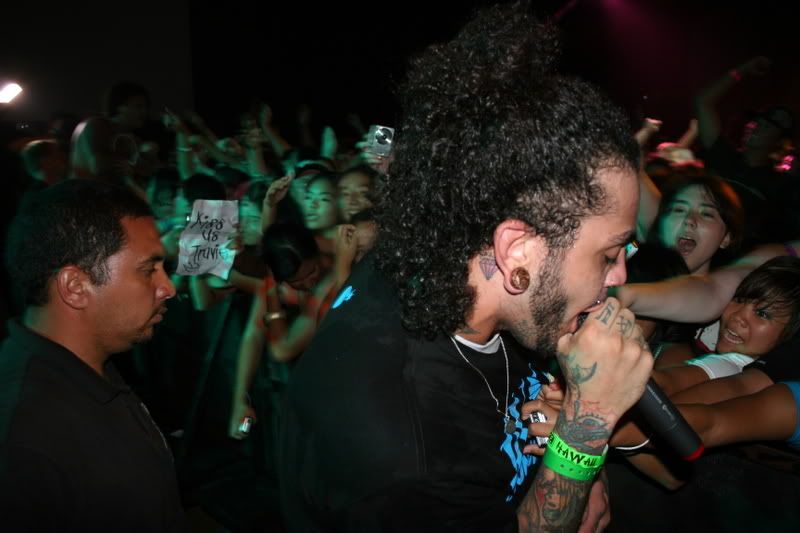 this isn't my favorite so much because of how it looks-- more because of what i went through to get it.

from the gym class heroes concert 8-15-07

- Posted by Christa at 11:08 AM (7 Comments)
August 11, 2007:
Kirby Wright's MOLOKA'I NUI AHINA novel released

Aloha Guyz,

My companion novel to PUNAHOU BLUES has just been released. You can find it @ Native Books, Borders Ala Moana, Borders Waipahu in the Waikele Mall, and BookEnds over in Kailua. This is a hard cover cloth in cobalt blue with a Van Gogh-like book jacket. It just received this review from Maui:
http://www.mauiweekly.com/the_bookshelf/story4914.aspx

- Posted by Kirby at 10:03 AM ( Comments)
---
© 2003 HawaiiStories :: E-Mail